"UKRAS DOO" from Veliki Despotovac was founded in 1970. In the beginning it was a family-run business specialized in making joinery and construction skirtings. Today, "UKRAS" has more than 4500 m2 of production and storage space. Owing to the constant investments in machines and equipment, today we have an Ultra Violet lacquering unit, the latest robot-assisted dry painting chamber, the latest equipment for CNC woodwork and door assembly, as well as many units for profiling and profile coating.
Our vision
To be the leader in the production of skirtings in the west Balkans.
Our mission
To improve and satisfy the aesthetic and functional demands for "UKRAS DOO" products.
Our values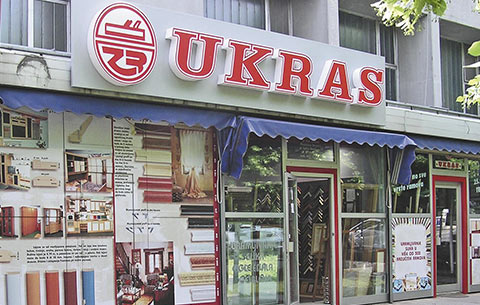 Experience, knowledge and motivation for satisfying the demands of all parties.
Our goals
A system of economic, social, ethical and quality goals and occupational safety and health at work.
Our strategy
An effective management of technology and knowledge transfer for satisfying the demand for skirtings on the existent and new markets.
Our product line:
The production of picture frame mouldings in over 300 different types – The mouldings are made from imported abachi wood (samba, ayous, wawa) from Ghana (Africa). Samba is imported as a dry board and as such is subjected to a complete process of primary wood processing – profiling, primary coating and finish coating (applying the coating on nitro, polyurethane and UV base on the coating unit) or so called gilt (which is actually applying a variety of decorative leaves on the previously chemically treated profile – warm application of foils without using glue). There are also some special production processes such as coating the profile in aluminum or applying a special paste on a decorative roller on previously chemically treated moudling so as to get appropriate moulding decorations. The entire production process is mechanized and is mostly automatic.
The production of laminate skirtings and profiles – The skirtings are produced in 10 different profiles and over 30 different styles. MDF boards are first cut to appropriate width, then profiled on four-side moulder and in the end coated with melamine foil in thirty different styles (beech, oak, Bavarian oak, cherry, walnut, maple, ash, etc.) on special coating machines by using glue on 200'C.
The production of parquet skirtings/veneered profiles – Skirtings are made from the spruce tree with eliminated faults in wood and are veneered with natural veneer in over 60 tree decors and four profiles which are compatible with the most up to date parquet design. All up to date demands are met by applying a lacquer finish with UV lacquers which rounds up the complete parquet skirting production process. This programme incorporates end profiles, T-profiles and reducers an integral part of adequate parquet placement process.
The production of wall panels – with all accompanying baseboard skirtings – "UKRAS DOO" has been producing them for nineteen years.
The production of wooden curtain rails – Curtain rails are made according to the customers' measurements up to 5 meters in one piece. The finish is made out of wawa tree and the brackets are aluminum with either two or three canals.
The production of mouldings for kitchens and closets – There are five different moulding profiles coated in melamine foil in six or seven different styles. We have a very interesting programme for furniture industry because "UKRAS DOO" can produce any profile based on customers' demand but with the corresponding ordered meterage. We also assembly fronts for furniture in accordance with the customers' measurements.
The production of interior doors. – This programme includes the production on the state-of-the-art machines and all production operations are mechanized. The doors are made in the following combination: MDF-wood-MDF with L-shaped skirtings which can be adjusted on both sides. The programme incorporates the production of white interior doors with a big selection of patterns, veneered doors with oak, beech, cherry and walnut veneers. Doors are also manufactured on demand by customers which makes the possibilities endless.
In our shops you can find our whole product selection. We also offer services of framing oil paintings, aquarelles, graphics, icons, needlepoint and mirrors. We cut cardboard paspartu, frame oval and plaster frames, sell different types of easels and canvases on blind frames. We also sell professional pneumatic machines for connecting frames, manual nail and staple guns, cartridges and accompanying materials. With many years of experience "UKRAS DOO" stands for a dynamic company with a modern business policy which has been a regional leader in its field and our greatest acknowledgement are out customers and business associates in these parts.